Why You Should Join Facebook Groups Before Starting a Photobooth Business
If you're considering starting a photo booth business, joining relevant Facebook groups is a great way to get a feel of the industry. Here are some of the benefits of joining Facebook groups before starting your photo booth business:


Before we start the list of benefits, here are the top two photo booth business-related Facebook Groups that are worth joining:
Get Advice From Experienced Photo booth Business Owners
The Facebook groups we listed are filled with experienced boothers who are eager to share their knowledge and advice. They can provide valuable insights into the business, from setup tips to pricing strategies.
See Honest Reviews
Boothers rely heavily on reviews of equipment and software for their photo booth setup. So you can expect numerous posts discussing certain products and boothers being brutally honest in the comment section. This will help you in choosing which products are worth investing in.
Learn About The Latest Trends 
Staying on top of the latest photo booth industry trends is essential because photo booths are largely tied with software and equipment. By joining relevant Facebook groups, you can stay informed about the newest trends and technologies in the industry with just a casual scroll. This will ensure that your business stays competitive and relevant.

Build Your Network
Facebook groups are a great way to establish your network with other photo booth business owners. You can use these connections to ask for more advice, collaborate and share ideas, as well as find potential customers or vendors.


Joining these groups also allows you to be updated on what events will be attended by your fellow boothers.


Get Inspiration From Other Photo Booth Businesses
Facebook groups are a great place to find inspiration from photo booth business owners showing their set up and how to manage their finances. You can learn from their experience, as well as get ideas on how you will handle your future photo booth rental.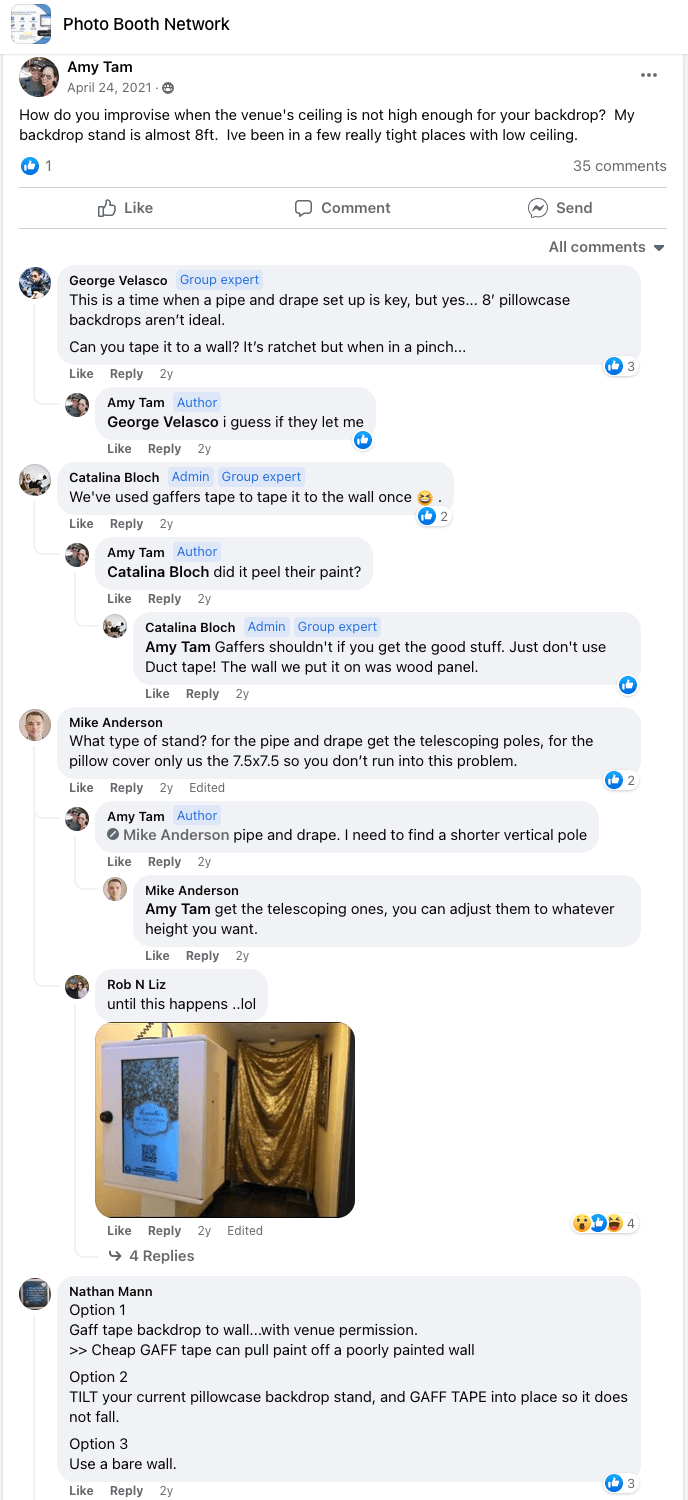 Important Reminder
There comes a time where your query in mind has already been asked. If you have a photo booth topic or query in mind, the 'search this group' feature comes in handy in accessing past group discussions about your interest. If there are no results, you are very much encouraged to start the discussion by posting. Just be mindful of the rules for each group.


The Photo Booth Community also did a great job in summarizing the search threads in the group's featured post.


Joining Facebook groups for photo booth business owners is highly beneficial for photo booth newbies. Getting exposed and participating in discussions will lead to valuable advice and connections. It can also help you stay informed about the latest trends, see honest reviews, and get other boothers' best practices.


So, make sure to join relevant Facebook groups before starting your photo booth business. This will further enhance the development stages of your photo booth business.
Learn from the best and grow your photo booth business.
Booth Report is dedicated on one thing: helping YOU grow your photo booth business.